The Dean and DeLuca at Phillips Place in Charlotte, NC is Under Renovation. Construction is going on and we are all very excited to see the finished space! It will be a relaxing and modern atmosphere, with a creative wine bar concept. Stop by this location to see...
Read more
Project Profile: Ingersoll Rand Corporate Headquarters
47,479 Square footagee | Davidson, North Carolina
Completed on an accelerated schedule, the transformation of a former 1970s manufacturing building into office space help ease a lack of real estate on Ingersoll Rand's corporate campus and executive...
Read more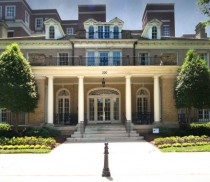 The William Henry Belk House | Historic Preservation:
Charlotte, NC: Studio Fusion has been selected by the Presbyterian Hospital Foundation to complete the historic preservation of the famous...
Read more